So the regular season is wrapped up and I still hate myself. Last night's Utah-Minnesota double-OT thriller/crapfest was BY FAR the most riveting game of the year due to its lottery implications for the Celtics. Now that everything is settled on that end, I can actually focus on good basketball. This year's postseason should be really damn fun, with all sorts of upset potential, collapse potential, and a Western conference with the best first round matchups in recent memory. Let's check it out.
Eastern Conference
Indiana vs. Atlanta
Any NBA fan would be lying if they said they were excited about this series. Atlanta's third best player is DeMarre Carroll and they lost 44 games this season. What this series is really about is whether Indiana can convince everyone (including themselves) that they can still dominate. I think an underperforming Indiana still wins this series, but at the expense of a couple of games plus some confidence. Roy Hibbert won't have an excuse to continue his dreadful play against an undersized Atlanta frontline. Due to their early season dominance and weak conference, the Pacers have the luxury of being able to figure this out when it would be too late for other teams. I don't know who would be favored in a seven game series against Dallas. But if the Pacers can get it together, pound Atlanta inside while George and Lance mix it up on the perimeter, they could get the confidence they need in a potentially tough second round matchup.

Prediction: Indy in 5
Alpha dog: Paul George
Upset potential: Nothing to see here.
Weird stat of the series: Roy Hibbert hasn't shot over 50% in a game since March 19th.
Miami vs. Charlotte
The makeup of this series is pretty dependent upon Miami's switch-flipping ability. If Wade plays up to his ability and the threes fall, Miami will make quick work of the feel good Bobcats. But if nobody gets hot, Wade drags along and Charlotte turns this into a defensive series, things might not come so easy for the champs. I think this is the toughest first round matchup Miami has had over the past few years. Steve Clifford has developed an elite defense in spite of a McRoberts-Jefferson frontline, Big Al will mercilessly beat on whoever the Heat throw at him, and I couldn't name five guys who I'd rather stick on LeBron than Michael Kidd-Gilchrist. Am I crazy to be having flashbacks to Memphis pulling the upset on the Spurs? Still, Charlotte can't score and the Heat will have the best player on the floor night after night.
Prediction: Miami in 6
Alpha dog: The King.
Upset potential: More than you would think (I think).
Weird stat: Josh McRoberts finished the season with a 4 to 1 assist to turnover ratio, good for second in the NBA behind Chris Paul. He's also the only non-guard in the top 20 of the category. What.

This is probably the hardest series to call. Brooklyn has looked awesome at times with small ball lineups, not to mention their abundance of go to guys at the end of games and a deep rotation of scorers. Aside from the loss of Lopez, they seem to be getting healthy at the right time. We'll probably hear the terms "veteran" and "experience" a record breaking amount of times during this series. Toronto fields one of the league's best backcourts with Derozan and Lowry, in addition to a big frontcourt and a reliable bench. Not to mention they were one of three teams this year to rank top 10 in both offensive and defensive rating. My gut tells me this series will come down to some big plays at the end and though Lowry is the best player in the series, the Nets just have too many guys who can close on their team.
Prediction: Brookyln in 7
Alpha dog: Lowry
Upset potential: No clear favorite.
Weird stat: Tyler Hansbrough attempted as many free throws per game as he did field goals.
Chicago vs. Washington
Poor Washington pulled the wrong matchup in the first round. The Bulls are one of the only teams that can negate their size, disrupt their pick and roll action and generally stagnate their offense. Thibodeau may well single handedly put poor Randy Wittman on the hot seat when he's done. For the Wiz to have a shot, John Wall is going to have to paint an absolute masterpiece in this one. He'll have to go up against the league's most physical guard (Hinrich) and two of its best pick and roll switch men (Gibson and Noah) to open up the floor for his shooters. The shooters are there with Ariza, Beal and Webster, but they'll be useless if Wall can't get them the ball. Despite the series' inevitable offensive sluggishness, it'll be fun to watch two big, crafty and physical frontcourts go at each other, not to mention the Wizards bench squad of Al Harrington, Prof. Andre Miller and Drew Gooden, otherwise known as the level one team in NBA Street Vol. 2. In the end, Chicago is more composed and plays harder, not to mention the Wizards dismal homecourt environment will probably bear its teeth this round.
Prediction: Chicago in 5
Alpha dog: Noah/Thibodeau, Washingtonites in Derrick Rose jerseys.
Upset potential: Tangible.
Weird stat: Chicago has finished dead last in scoring two consecutive years and made the playoffs.
Western Conference
San Antonio vs. Dallas
It's hard to imagine a situation where this series isn't watchable. Seeing Dirk and Timmy go one on one will be delightful. Those two are the only players from their generation who still play at an elite level. Still, I doubt there will be much legitimate competition. Though Dallas has some crafty vets plus a great coach, San Antonio has some craftier vets and a better coach. Even if Nowitzki might be the best player in the series, the Spurs are craaazy deep. Ginobili, Mills, Belinelli and Diaw average a combined 43 per game of the bench. San Antonio is totally for real and probably the best team in the NBA, which is kind of nuts considering they haven't not been a contender since Clinton was president. There really aren't enough cliches to describe this team. Timmy and Pop have won four rings together, were a few unlucky plays away from five and now have a real shot at getting one back. All over the course of sixteen years. Look for their stretch of excellence to continue as they cruise into the second round.
Prediction: San Antonio in 4
Alpha dog: Could be Duncan, Dirk, Parker, even Monta Ellis. But it won't really matter.
Upset potential: Nope.
Weird stat: If Dirk had made four more field goals, one more three and one more free throw, he would've had the oldest 50-40-90 year ever.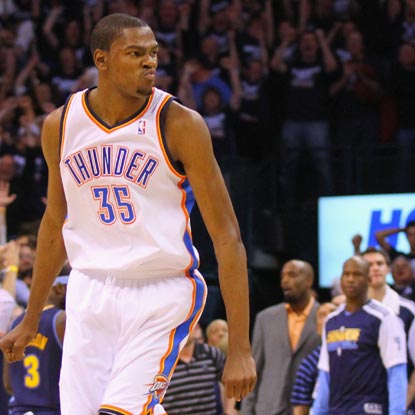 Oklahoma City vs. Memphis
Some people are calling upset on this one. Psh. Memphis has a really good defense that still ranks lower than OKC's. Even if their grit 'n' grind is built for the playoffs, their offense is dismal and Kevin Durant is somewhat inhuman. Stylistically, Memphis has no issue here, they're just overmatched. It'd be one thing if Memphis had an unstoppable weapon offensively to carry them down the stretch (a la Al Jefferson), but Zach Randolph isn't the same guy who commanded triple teams against the Spurs three years ago. The Thunder's supporting cast should do enough to help out OKC's big three, which is likely the best in the league right now. Reggie Jackson is no James Harden, but he creates havoc on the pick and rolls as a fearless slasher. Gasol, Conley and Randolph will need to play close to perfect while Courtney Lee and Mike Miller will need to catch fire. Even if all goes well, the Thunder's scary offense and defensive presence should quell any doubts of success.
Prediction: OKC in 5.
Alpha dog: Guess.
Upset potential: Very slight.
Weird stat: Now, would everyone please look at Serge Ibaka's shot chart?
Clippers vs. Golden State
Again, a series that for many screams upset and for me screams nothing. I know, I know, Stephen Curry is amazing, but so is Chris Paul. Golden State's offense is nowhere near as consistent as the Clipper machine, something you can chalk up to shaky coaching and bad health. There's no reason that Golden State shouldn't have an absolutely elite offense, considering their interior passing, post scoring, shooting, athleticism and Stephen Curry. But they don't and their defense will definitely struggle without Bogut in the middle to bark out orders and lock down the paint. Rivers' squad has all kinds of offensive weapons, not to mention 2 MVP candidates in Griffin and Paul. The combined excellence of these two will be difficult for any team to stop in the playoffs, let alone when they're going up against the likes David Lee and Curry on the defensive end. I'd give the Clippers the edge on everything but shooting and not by much. Golden State might win a game or two by virtue of shooting explosions and a ridiculous home court, but I can't see them stifling the league's top offense for long.
Prediction: Clippers in 6
Alpha dog: CP3.
Upset potential: With lights-out shooting and an overachieving defense, maybe
Weird stat: Stephen Curry led the NBA on points off pull up jumpers, while Thompson was #1 in catch and shoot situations.
Rockets vs. Blazers
This one should be real fun. Each team has one perimeter star and one star big man, plus a scary supporting cast. Not to mention a similar styles of play, with an emphasis on quick possessions and a whole lotta 3s. Neither team defends much, which could be an issue in later rounds. In this particular matchup, Houston gets the edge for two reasons: toughness and star power. Portland does not have a Pat Beverley to hound opposing guards, nor do they have any bigs as physical as Asik or Dwight. I would sooner take Harden or Howard on a contender rather than either Lillard or Aldridge. Lillard isn't the playmaking threat that Harden is due to his lack of effectiveness inside, while Aldridge is more offensively polished, but nowhere near the two way threat that Dwight is. That being said, this series could very well come down to who gets hot. Whoever gains an edge in the Chandler Parsons-Nic Batum could be a huge factor in regards to the final outcome.
Prediction: Rockets in 7
Alpha Dog: Harden, with one huge game from Dwight.
Upset potential: Very palpable, though it wouldn't be all that much of an upset.
Weird stat: Dwight Howard and James Harden attempted only 2 fewer free throws per game than the San Antonio Spurs.
I was 8 for 8 on first round series last year so this postseason may well disappoint on that level. I'd say there are 5 contenders this year, being Indiana, Miami, OKC, San Antonio and the Clippers. Conversely, I wouldn't be all that surprised if any of those teams went down before the conference finals. All in all, we're in for some competition that may well make up for a lackluster regular season. All we can do is sit back and pray nobody gets hurt.